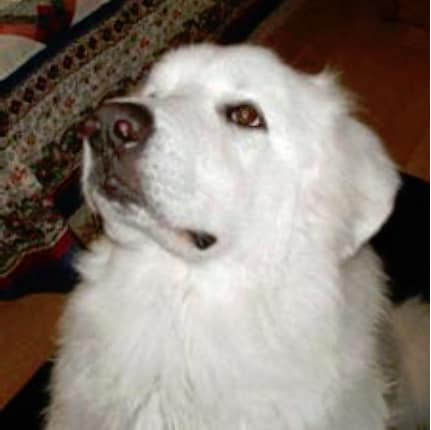 Howdy, ya'll! Meet Jacob, a three-year-old Great Pyrenees, hailing from the great state of Texas! This Southern boy is full of good old-fashioned charm, and will surely be a lovely addition to your home.
Jacob is a truly multi-talented dog. Among the many things he can do include opening doors, climbing on a stool, opening the refrigerator, pushing the garage door opener and even flushing the toilet.
Jacob is also a sweet cuddler, who is protective of his family, and can give sweet, non-slobbery kisses to those who choose him to be a part of their forever family! Don't miss this excellent opportunity to find the perfect new dog for your family, especially one as lovable and cute as our dear Jacob!
This sweet and smart boy is neutered, current of all vaccinations and microchipped. He is heartworm positive but is on medications, so don't let that stop you from scheduling an appointment to meet this wonderful pup.
If you would like more information about Jacob and to learn how you can take him home, contact us on Facebook today! Know someone else looking for a new dog to join their family? AZPrys has other exceptional dogs up for adoption in Phoenix, so ask us for more information on them as well.