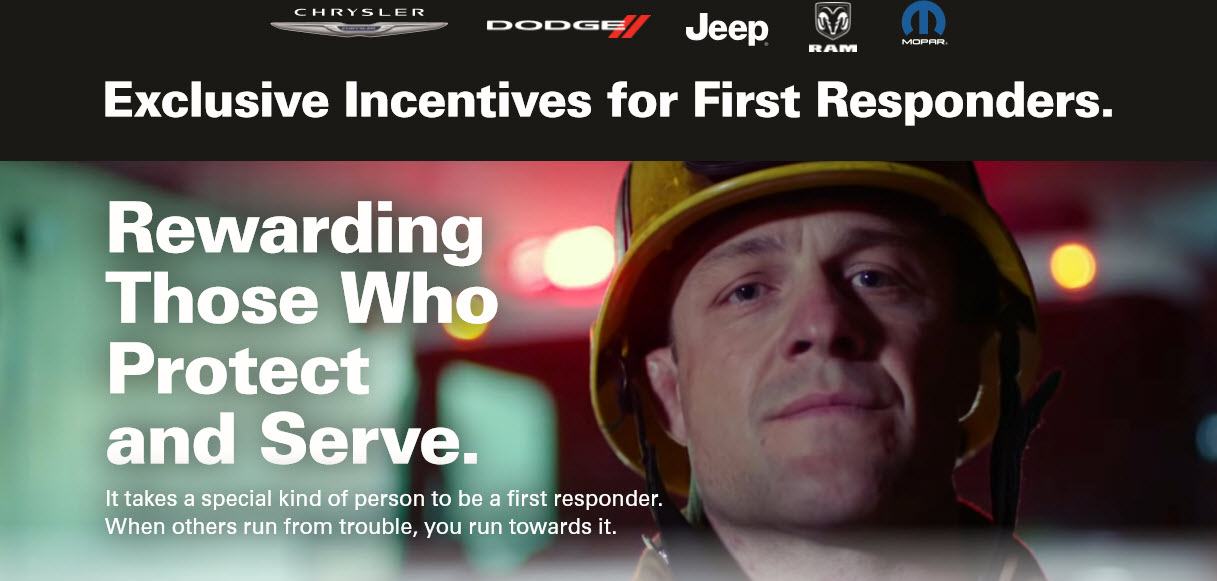 $500 CHRYSLER FIRST RESPONDERS BONUS CASH
To honor our emergency responders, whether law enforcement, fire or medical, the Chrysler Brand is offering a $500 discount [1] on 2022 vehicles. To receive a First Responders Discount, you'll be asked to submit some basic information that confirms your eligibility. Once confirmed, our dedicated third-party verification service will provide you with an authorization number you can present at qualifying dealerships. Just click "Get Authorization Number" below to be verified as an eligible First Responder.
Please see more details about the program below!
WHO IS CONSIDERED A FIRST RESPONDER?
First responders fall into three categories: law enforcement, fire and medical. The law enforcement personnel who are eligible for the discount include: police officers, sheriffs and their deputies, correctional officers, state troopers and federal law enforcement officers. Eligible fire service personnel include career and volunteer firefighters. The medical staff who qualify for the discount are EMTs and paramedics.
In certain cases, spouses of first responders are also eligible to participate.
WHAT CHRYSLER DEALERSHIPS OFFER FIRST RESPONDER DISCOUNTS?
All franchised FCA US LLC dealers are eligible to participate in the First Responder Incentive program Program.
HOW DO FIRST RESPONDERS GET THEIR DISCOUNT?
All eligible personnel must present a valid code generated from the "Get Authorization Number" button above confirming their eligibility status to a franchised FCA US LLC dealer in the United States at the time of retail purchase or lease of an eligible vehicle.
Customers may be asked to provide qualifying documentation to a third-party to confirm their eligibility status
DO FIRST RESPONDERS GET DISCOUNTS ON ALL CHRYSLER CARS, TRUCKS, AND SUVS?
The offer is valid on 2022 Chrysler Brand vehicles.
DOES THE CHRYSLER BRAND OFFER FIRST RESPONDER DISCOUNTS?
Yes, the Chrysler Brand offers a First Responder Incentive to eligible Police/Law Enforcement Officers, Firefighters, and Medical workers.
HOW MUCH IS THE CHRYSLER FIRST RESPONDER DISCOUNT?
Eligible First Responders will receive $500 off the purchase or lease of 2022 Chrysler Brand vehicles.
[1] Offer available to Police Officers, Sheriffs/Sheriff Deputies, Correctional Officers, State Troopers, Federal Law Enforcement Officers, Career Firefighters, EMTs and Paramedics. Spouses of deceases Police Officers, Firemen and EMTs who died in the line of duty are also eligible. Mush show proof with qualifying documentation. See us for details. Must take retail delivery by 01/03/2023
Make an Inquiry
* Indicates a required field