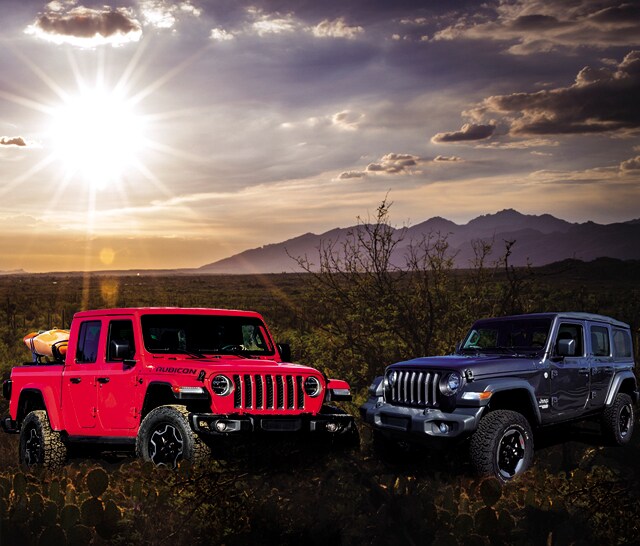 The Jeep Wrangler, a vehicle that has always had a reputation for being tough as nails, appeals to one's desires for the off-roading experience. You can get different Jeep lifts and accessories that will help to make the off-road experience even more enjoyable. Depending on the lift that you choose, you can dramatically improve your off-roading experience in the Jeep.

Check Us Out!
We have become experts in the field, and have helped many customers that are curious about the off-road experience. We will look at the different Jeep lifts and accessories, and after we have listened to your requirements, we can help you to pinpoint a product that would work best for you. The need to have a Jeep lift has become a desire ingrained in many people. These kits will help you to achieve a more rugged appearance, but they will also help you to attack almost any type of off-roading activities, whether it is mudding or simply laughing with your buddies down one of the backtrails.
What Are the Benefits of Lift Kits?
The Jeep Wrangler JL 2" lift kit will support up to 35" tires with standard flares on Sport or Sahara editions, or 37" tires on the Rubicon. The following features go above and beyond the peace of mind you get with the included warranty:   
Front & Rear Coil Springs
Front & Rear Shocks
Front Control Arms with Flex Style Bushings
Sway Bar End Links
Extended Bump Stops
Installation Hardware
Because of longer front control arms, you will experience a more optimized suspension and turning radius for better overall performance regardless of the terrain. The included Fox monotube shocks highlight a 2.5 inch diameter aluminum shock body, which will operate cooler and assist tire articulation on the trail for better stability and a smoother ride.
Benefits also include:
Stable and Effective 2 inch Lift Kit
Improves Off Roading Ground Clearance
Allows for the Use of Larger Tires
Drastically Increases Articulation
Maintains Tire-to-Ground Contact
24-Month Limited Warranty
Enhancing the Experience
When you go out and pay for a new vehicle, you want one that will give you the experience you desire. Paying a little extra to enhance the experience will only ensure that you have more fun when riding. You want things to look and feel as nice as possible. We provide Mopar lift kits and over 200 accessories for the Gladiator, along with several options for the Jeep Renegade and Compass. Getting your Jeep lifted is important as you'll know what terrain challenges it can handle.

Many Lift Kit Options
When you come to see us, you will find that we have many lift kit options available. We like to keep a healthy stock for our customers. We have a variety of Mopar parts and accessories stocked because we understand how every customer might be looking for a different accessory for their Jeep. We offer affordable options for the equipment so that you can get a great deal. Whether you own a Jeep Wrangler, Jeep Grand Cherokee, or a Jeep Compass, bring it to us and we will get to work on it. You can come in, browse our inventory and figure out which genuine Mopar parts work best for you.Also, keep in mind that even if you just want to add bigger tires to your Jeep, we highly recommend that you first purchase a lift kit because it will give you better ground clearance, improve your visibility and work for all types of terrain.
Vist Airpark Dodge Chrysler Jeep For More Info
When you visit us to have your Jeep lifted, you will know that you have left your vehicle in good hands. We only hire certified and factory-trained technicians who understand how to install Jeep lifts. We also sell other accessories that you may be interested in for making your Jeep an even better vehicle. One of the great things about buying a lift kit is that you sit up higher in your Jeep. You will see more things going on, and the experience just feels better in general. Arizona has some of the most beautiful natural landscapes in the nation, and raising the suspension of your vehicle will give it a more athletic appearance and give you a better view of our city's beautiful surroundings. Tackle the most intimidating terrain using the products from our dealership!
New Lifted Jeeps
KBB Retail

:

$70,619

Savings

:

$4,134

Price

:

$66,485
View Details
Make an Inquiry
* Indicates a required field
Hours
Monday

08:00AM - 08:00PM

Tuesday

08:00AM - 08:00PM

Wednesday

08:00AM - 08:00PM

Thursday

08:00AM - 08:00PM

Friday

08:00AM - 08:00PM

Saturday

08:00AM - 08:00PM

Sunday

10:00AM - 06:00PM