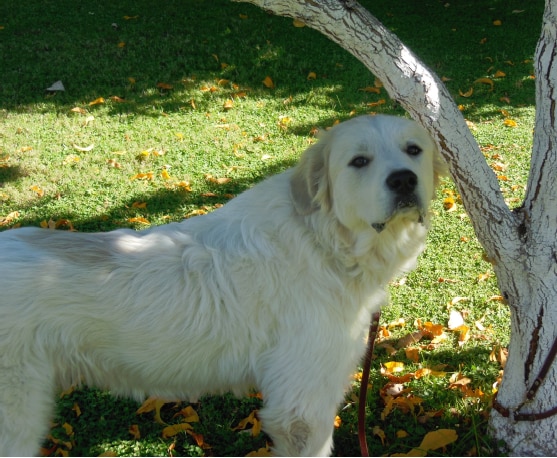 Hi there, I'm Punky Brewster! I'm a feisty Great Pyrenees female, who came into AZPyrs Rescue about 6 month ago, and I'm looking for my new forever home.
It's guesstimated that I'm between 1-2 years old, but my foster mom says I act like a 6-month-old puppy! I have lots of energy and a mind for play. I love to chase balls, sticks, twigs - just about anything you'd care to throw my way.
Being a former stray, I'm quickly learning my indoor manners! I can sit, ride nicely in a car, and I'm 100% housebroken, crate and kennel trained.
I would be easily contained in a smaller yard, but my energy would probably be too much for an apartment home. I'm a great eater, not picky at all. I utterly adore older children - haven't really met any wee ones yet. I like some dogs, but I don't like cats at all. I do not challenge fences and I walk pretty well on a leash.
Basically, I'm cute, sweet and all anyone could ever ask for. Yup, that's me, Punky Brewster!
If you'd like to find out more about Punky Brewster and how you can take her home, contact Linda at azpyrs@cox.net or look them up on Facebook.