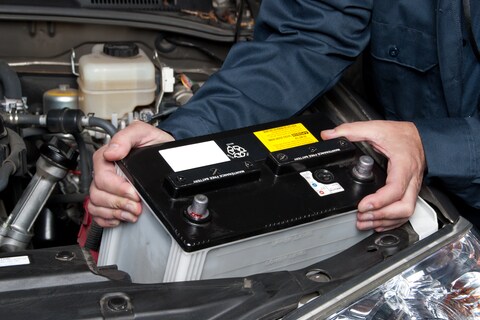 Your car's battery is one of the most important, but often  one of the most neglected, parts on your  car, which is why it's vital to know how to care for your battery so that  you get the most out of it. If you've had questions about Jeep battery service  near me, continue reading below to discover a variety of tips on proper battery  care.
How Long Does a  Car Battery Last?
Car batteries tend to last between three to four years,  depending on how much you use your car and how well you care for your battery.  Replacing your Jeep's battery can be a hefty investment, which is why it's  imperative that you take proper car of it, starting on day one.
So how can you extend the life of your battery?
Don't idle - One of the most common causes of premature  battery death is consistent idling. Idling in general is not great for your  car, but it's especially tough on your battery as it uses excess power. Adding  to this strain is charging or using several accessories like iPhones, with the  battery and alternator unable to meet the electrical demand.
Keep your car in the shade -If your workplace has a nice  big tree, or preferably a garage, always try and grab a spot that limits the  amount of sun exposure to your car. The excessive heat during Phoenix summers  have been proven to drain batteries if exposed to it for longer periods of  time.
Turn off lights and interior accessories - One of the best  things you can do is to limit that amount of electrical pressure you put on  your battery and alternator, which is why you should avoid using several  battery-powered accessories in your car, while also limiting the amount you use  your headlights and cabin lights. In other words, let those daytime running  lights do their job while the sun is out.
Visit your local Frank Lloyd Wright Boulevard service center -  Receiving regular Jeep battery maintenance in Scottsdale is essential to  keeping your battery working the way it should. Schedule an appointment with us  today, so that we can check your battery's fluid levels and voltage.
Is It Time for a  New Car Battery?
Even if you do all the right things and keep your battery  healthy, there will come a time when you do need to have your battery replaced.  If you've reached and/or surpassed the three-year mark on your battery, its  best to look out for the following signs of battery failure:
Engine is slow to crank and won't start (big  one!)
Your battery warning light comes on
Your battery case is bloated
You see leaks on your battery casings and signs  of terminal corrosion
Your fluid levels are low
Affordable Car  Battery Service and Replacement Near Me
Don't run to your local Discount Tire or Jiffy Lube the next  time you are looking for battery replacement service in the Phoenix area, as  you'll find an even better customer-focused experience and Jeep expertise at  Airpark. Our factory-certified technicians have been trained on the intricacies  of specific Jeep, Dodge, Ram and Chrysler models, so that you can be confident  that your car is in the best hands.