Read about 2016 Grand Cherokee for the Phoenix area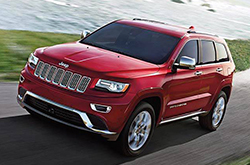 Now on sale in the Phoenix area, the 2016 Jeep Grand Cherokee has been highly revised for the new model year. Its powertrains receive a series of updates, including new technology that helps improve performance. On 3.0L EcoDiesel, 3.6L and 5.7L models, you'll find decreased tire rolling resistance and power steering with settings that can be completely customized. Additionally, a new High Altitude special edition model has joined the lineup and the high-performance SRT model sports a few upgrades that will appeal to drivers. Glance over Airpark's 2016 Jeep Grand Cherokee review below to discover complete info about these changes and other offerings on the new model.

For 2016, Jeep has made various improvements to the Grand Cherokee's engines. The 3.6L variant now offers up to 265 horsepower and comes with start-stop technology in order to improve fuel efficiency. The displacement also receives a revised variable valve timing system, an advanced two-step variable valve lift system and cooled Exhaust-Gas Recirculation. The 5.7L V8 offered on 2016 Jeep Grand Cherokees in the Phoenix area also delivers greater fuel economy ratings than last year due to the same aforementioned updates. It generates 360 horsepower and 390 lb.-ft. of torque, while offering a 7,400-pound towing capacity. The 3.0L EcoDiesel continues to offer a driving range of more than 730 miles, and the SRT model's 6.4L V7 with Fuel Saver Technology once again produces 475 horsepower and 470 lb.-ft. of torque.

All Overland, Summit and SRT models of the 2016 Jeep Grand Cherokee at our dealership in Scottsdale come with an Ivory Tri-Coat paint option and a new polyester shifter for 2016. Furthermore, the SRT gets new drive modes, an updated SRT Performance Package, aluminum suspension components and a brand-new instrument panel gauge cluster. The special-edition High Altitude model has officially joined the lineup this year as well and sports European suspension components, standard Advanced Technology Group and dark chrome exterior features.

Want to learn more? Scroll down and continue reading Airpark's 2016 Jeep Grand Cherokee review.