Quick Stats for the Jeep Wrangler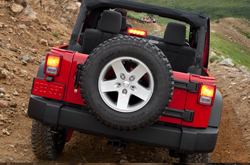 The 2014 Chevrolet Equinox, Nissan Xterra and the Volkswagen Touareg are no match for the 2014 Wrangler! Just compare Jeep's most current model side-by-side with them and you'll determine that it beats out the competition easily. If the Wrangler's bargain sticker price and useful onboard technologies don't convince you that it's the ideal vehicle for your needs, we're sure its marvelous exterior styling will seal the deal. Hundreds of Phoenix Jeep drivers choose it because it's a remarkable value; just compare its price to the vehicles in its segment. Glance over our Quick List underneath this text to find out more!
2014 Jeep Wrangler Seats: 4 passengers
2014 Jeep Wrangler MSRP: $22,295
2014 Jeep Wrangler 0-60 MPH in 10.1 seconds
2014 Jeep Wrangler MPG: 17 city / 21 highway
2014 Jeep Wrangler Cargo Space: 61 cubic feet
2014 Jeep Wrangler Body Style(s): SUV
2014 Jeep Wrangler Doors: 2-door
2014 Jeep Wrangler Colors: gecko, dozer, crush, commando green, etc...