For more information about Dodge Ram Commercial vehicles please contact our Fleet Department at 480-646-3790 or email them at fleet@airparkchryslerjeep.com.
Ram's manufacturers have scored once again. From blistering blowtorch flames and metal, they managed to construct one of the beefiest commercial work trucks in the fleet sector. Like the biggest, baddest linebacker running for a touchdown while dragging a pack of players along the way, the 2013 Dodge Ram Chassis Cab flaunts awesome towing and hauling power. With an MSRP starting at just $36,150, you get a powerhouse truck with a comfortable, car-like ride, advanced technological features and incredible strength. Airpark Dodge Ram is proud to lead the way in Scottsdale commercial truck sales. You can learn more about the new 2013 Dodge Ram 4500 and 5500 at our premier Scottsdale Dodge Ram dealership. On top of being a leader in fleet truck sales, Airpark Dodge Ram is also a proud provider of genuine commercial truck parts . Our factory-trained mechanics can service your work truck and get it back in tip-top shape before your next job! Call the Airpark Dodge Ram Fleet Department at 480-646-3790 or email fleet@airparkchryslerjeep.com to find out more about our collection of commercial vehicles!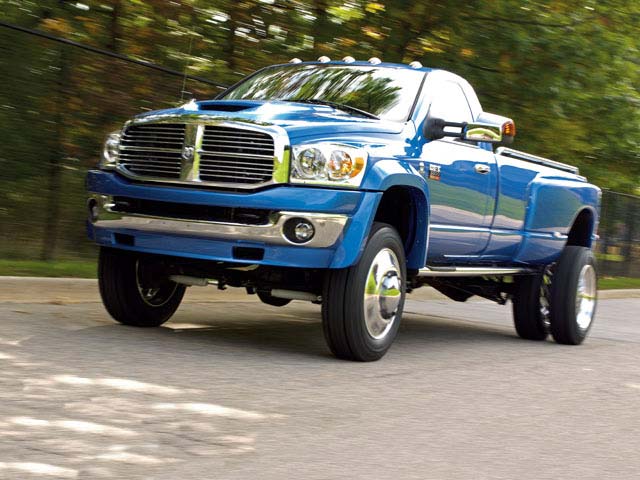 The 2013 Dodge Ram 4500 and 5500 were introduced in 2008 when Dodge made a pivotal decision to add two more Chassis Cab models to its lineup. These class 4 and 5 trucks helped round out Ram's collection of commercial vehicles, providing a wider variety of options for consumers in need of fleet trucks. This year, the new 2013 Chassis Cab is better than ever. With several cab setups, a 6.7-liter Cummins Turbo Diesel engine option and up to 30,000 pounds of towing capacity (with Max Tow Package), the 2013 Dodge Ram Chassis Cab is an ideal fleet truck for Scottsdale residents. The new Dodge Ram pickup is offered in colors like Brilliant Black Crystal, Flame Red Clear Coat, Bright Silver Metallic Clear Coat and Midnight Blue Pearl Coat. Available trims include ST, SLT and Laramie.
Specially designed with the strongest brake rotors and pads in its class and the strongest exhaust brake in the industry, the 2013 Dodge Ram Chassis Cab was built for towing. "It's a simple matter of economics. More towing and payload means fewer loads. And fewer loads means lower fuel bills. For commercial customers, cost of ownership is a primary consideration," stated Fred Diaz, President and CEO, Ram Truck Brand and Lead Executive for U.S. Sales ? Chrysler Group LLC. If you've been searching for an affordable, fuel-efficient pickup truck that works hard and hauls harder, our Scottsdale commercial trucks will perfectly fulfill your needs. Along with their amazing towing capabilities, the Dodge Ram 4500 and 5500 are also designed with copious storage space and commercial-strength frames. When you call our fleet department at 480-646-3790, they will give you even more information about Airpark's terrific commercial trucks. Also feel free to email us at fleet@airparkchryslerjeep.com.
Our Scottsdale fleet trucks are tough, economical and best in class in several areas. They have 160 percent less brake fade than other commercial trucks, offer the largest fuel tank and have better braking power in wet and dry weather conditions, amongst other perks. Dodge Ram's new 2013 Chassis Cab commercial trucks are also segment leaders when it comes to the cost of ownership. Based on a variety of factors including brake wear, tire wear and fuel economy, the Dodge Ram Chassis Cab has the lowest overall ownership costs in its segment.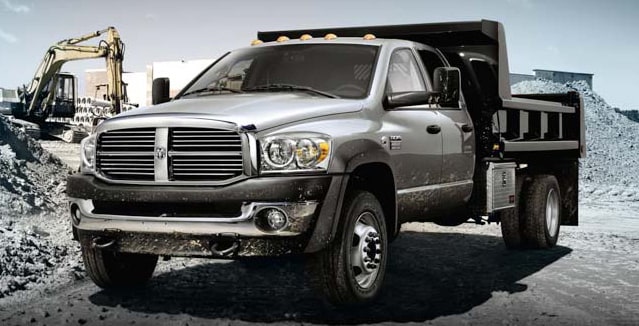 Valley residents searching for the best work truck need look no further. You can find out more about 2013 Dodge Ram commercial trucks in Scottsdale at Airpark Dodge Ram Chrysler Jeep. Dodge Ram has a strong hold in the commercial truck market, producing some of the toughest towing machines in the world. Last year's models, the 2011 Dodge Ram 4500 and 5500, were named Medium-Duty Trucks of the Year based on votes from industry experts and professionals. When stacked up side-by-side against 19 other fleet trucks, the 2013 Dodge Ram Chassis Cab was number one amongst fleet managers. Voters were asked to chose which truck best suited their fleet requirements when it came to quality, dependability, maintenance and service, lifecycle costs and overall effectiveness. Without breaking a sweat, the Dodge Ram pulled through to take first place.
We can help you customize the perfect fleet truck for your needs! When you visit our Scottsdale Dodge Ram dealership, one of our friendly representatives will be happy to go over all available Chassis Cab 4500 and 5500 features and packages. Call or email Airpark Dodge today to learn more information about one of the best selections of commercial trucks in Scottsdale!
When selecting your next work truck, contact Airpark and choose the brand that is the top pick amongst industry professionals. Our collection of Scottsdale commercial trucks is one of the most extensive in the area. Airpark is your one-stop shop for commercial fleet vehicles of all levels. Along with the 2013 Chassis Cab 4500 and 5500, we also carry several other Dodge Ram commercial trucks. Call our Fleet Department at 480-646-3790 or email us at fleet@airparkchryslerjeep.com to learn more about our entire collection of commercial vehicles!