Take a Look Scottsdale Chrysler Shoppers - the 200 has Arrived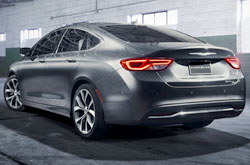 The 2015 Chrysler 200 has been completely redesigned this year. The 200 convertible model has officially been discontinued, leaving the sedan as the sole option. A slew of exterior improvements have been made to the 200, which have drastically enhanced its look and appeal among buyers. With its new expressive styling, distinct lines and firm, reliable structure, the sedan is better than ever before. To acquire more details about the 200 and its upgrades, take a look at our comprehensive 2015 Chrysler 200 review for details.
For the 2015 model year, all Chrysler 200 models are being offered with either a 2.4L four-cylinder or 3.6L V-6 engine. The four-cylinder comes standard on all models, and produces 184 horsepower and 173 lb.-ft. of torque. The 3.6L V-6 engine, which outputs 295 horsepower and 262 lb.-ft. of torque, is optional and comes with a nine-speed automatic transmission (also on 2.4L four-cylinder models). All V-6 models are also available with Sport mode, which increases engine and transmission response, as well as front-wheel or all-wheel drive. When equipped with all-wheel drive, the 2015 Chrysler 200 in Scottsdale can jet from zero to 60 mph in 6.2 seconds, outperforming many sedans in its class.
Outside of its performance offerings, the Chrysler 200 features a wide-range of great technologies and amenities this year. A brand-new 8.4-inch touchscreen display has been outfitted inside the cabin, which provides access to a collection of innovative functions. Voice-activated text messaging and navigation are just a couple of the features drivers can take advantage of. The 2015 Chrysler 200 in Scottsdale also comes with smartphone integration, so occupants can utilize some of their favorite apps via the infotainment system, enhancing the overall driving experience.
To find out more details about the latest 200, continue browsing our 2015 Chrysler 200 review for additional information.