A New Minivan For a New World
SUVs have become so popular over the years that minivans have really had to revamp their exterior styles and interior features to keep up with the crowd. Of course, some minivans, like the Chrysler Pacifica, exceed the expectations of everyone and comfortably come out ahead of even today's most stylish and wanted SUVs. It's a minivan worth considering and taking on a test drive.
Priced very reasonably and with a towing capacity of 3,500 pounds, this is definitely a tough, rugged minivan that's going to make you rethink everything you've ever associated with the minivan. With extremely diverse seating configurations, tons of cargo space, and luxurious interior that's a top value, you're going to absolutely love just about anything associated with the Pacifica. But what about the exterior? Well, the great news is that the 2019 Pacifica is getting a super blacked-out trim package, and folks are smiling big about it.
What's the Blacked-Out Trim Package for the Pacifica?
Trims are one of the most fun things about selecting a new model of car. You get to pick the type of model you really want. If it's appearance you're looking for, a blacked-out trim package will certainly earn your attention. The package you need to ask us about is the S Appearance Package for the Pacifica. When you get this appearance package, you're going to look just a little cooler on the way to all those soccer matches, and chances are your teenagers are going to be just a little prouder to be traveling about in this decked out masterpiece.
What are Some Highlights of the S Appearance Package?
Black rear and front Chrysler wing badges
Black roof rack for all your important gear
"Black noise" finish on 18-inch wheels for a much bolder appearance
Black and light gray stitching accents on the steering wheel
Black interior seating with gray accents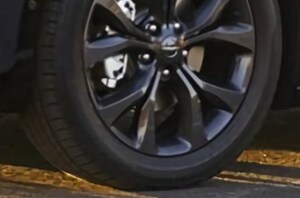 It's an all-around extravaganza for the color black, but the great news is that black isn't the only color you're limited to. You can pick ANY exterior paint color and have a "Xed-Out" Appearance package, and it's not going to cost you that much to do it. With a Blacked-out package, you can look just a little cooler than the rest of the moms and dads out there driving minivans. And it never hurts to be cool, right?
Learn More About The Package
This is one of the many appearance packages we'll be offering on our vehicles this year. The Pacifica just happens to be one of the models that's going full-on blacked-out, so we wanted to bring it to your attention. Folks who are interested in this package can always write to us to seek more information, or you can simply request a quote on the Pacifica itself, complete with this package that you want to tack on to the final finish. It's a great way to make sure that you stand out on the road and that everyone who hops in the vehicle can be super proud of it. If you're interested in learning more about the S appearance package, just contact our dealership today for more information.