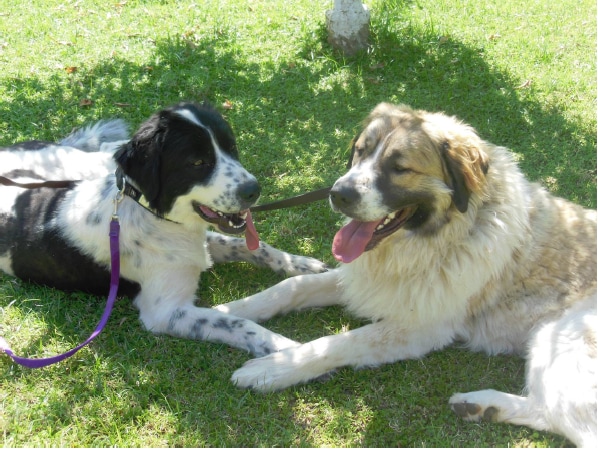 While AZPyrs usually works with purebred Great Pyrenees, every once in a while we will accept a Great Pyrenees mix. Such is the case of Pepper and Bear!
Both pups share a Great Pyrenees mom. Bear's dad was an Anatolian Shepherd, while Pepper's dad is unknown. No matter their breed, however, Bear and Pepper are simply wonderful dogs who would be great additions to any Phoenix-area family!
Under two-years-old, both Pepper and Bear are well mannered, non-destructive, playful and friendly to everyone (except birds), and oh how they love to chase (and catch) birds! Both are reliably crate/kennel trained, come when called (certainly didn't get that trait from the Pyr side!) and extremely gentle.
They will entertain each other for hours and definitely entertain their new owners with their antics. Both are non-food aggressive and do not challenge fences. They are beautifully housebroken, current on all vaccinations, microchipped, and spayed and neutered.
Both dogs will have longer coats - Pepper was shaved down to the skin and Bear was chopped with scissors prior to arriving into rescue. Their personalities complement each other well. Bear is a bit more aloof but goofy, while Pepper is a lightning streak and always happy.
If a pure bred or a "designer dog" is not what you're looking for, please consider this dynamic duo! You can find us on Facebook or contact Linda at azpyrs@cox.net.