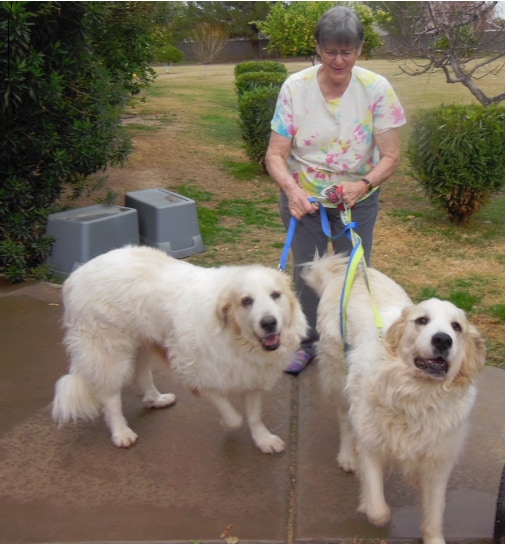 This month, AZPyrs' pet profile is a bit different. It's not about adopting a dog, it's about how two exceptional pups made their way to a wonderful, forever home.
In April of 2016, AZPrys was notified by Maricopa County Animal Care and Control that they had two "older" female Great Pyrenees at their West Side facility, so we made arrangements to have them updated on vaccinations and to have them spayed.
When we went to pick them up, though, we were shocked to see the shape they were in. Both dogs were dirty, tick-infested and severely matted. It took several washings and brushings just to be able to be in the same room as them.
On top of that, we believed them to be mother and daughter, and they were extraordinarily bonded to each other, unwilling to leave each other's sides.
Temperamentally, they were wonderful dogs, being both sweet and gentle, but they just seemed worn out from not having a permanent family to call their own.
Many, many months passed with no adopter showing interest in these two. Happily though, just last month, a woman called, inquiring about a possible older dog; one that was definitely settled down and would fit into her retired lifestyle. And sure enough, she fell right in love with both Mona and Lisa, and decide to take them home!
It has taken 11 long months to find Mona and Lisa a suitable loving home, but we did it! And as a result, we are very proud to announce they are our 15th "Pair of Pyrs" adopted, giving us and Mona and Lisa something to smile about!
Want to begin your own adoption story? Contact us via Facebook to see the other wonderful Great Pyrs we have available for adoption in Phoenix right now!