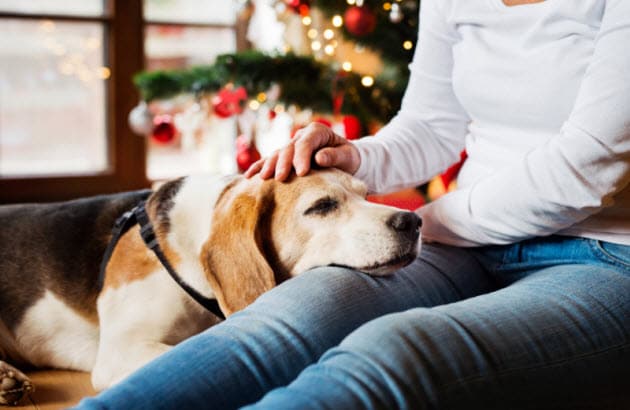 Holidays, whether it be Christmas, Hanukkah, Kwanza or Festivus, are a stressful time of the year for everyone, but have you ever imagined what it looks like through the eyes of your pet?
This festive season can actually be very strange for our pets. There are new decorations being put all around houses and yards, we bring in trees from outside, and there are all kinds of weird smells around the home. Add a lot of holiday visitors, crazy schedules, and dangerous toxins to this mix and you have surely got a recipe for disaster.
It goes without saying that we need to pay special attention to our pets during the holiday season. Keeping their needs in mind while decorating and planning trips, as well as educating the people we invite into our homes, is the least we can do for our furry family members. Following these simple dog Christmas safety tips will keep Fido happy and healthy through the New Year!
DECOR AND DECORATIONS
Use LED candles instead of real ones
Don't use holly, poinsettia or mistletoe (poisonous)
Anchor your holiday tree
Avoid glass or breakable ornaments and avoid edible ones
Don't let your pet drink the tree water
Hide extension cords and consider spraying with a product like Bitter Apple
Consider blocking off your tree
FOOD AND FUN
Keep chocolate out of reach
Don't feed pets cooked bones and limit table scraps
Keep a close eye on dough that could expand in their bellies
Wash pans and dishes immediately to avoid tempting pets
GATHERINGS
Educate your guests about your pets' personalities
If people are drinking heavily isolate your pets to prevent people getting 'handsy,' rough or leaving doors inadvertently open
Be wary of children and educate them about how to treat your pet
Try to keep as normal a schedule as possible
We all adore our animals, so let's make this holiday season as fun for them as it is for us!
Linda at AZPYRS@cox.com