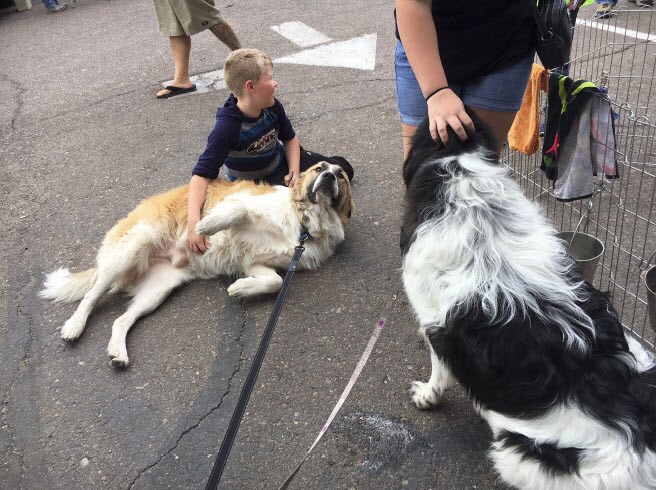 It was really difficult to take pictures of Pepper and Bear at the recent Jeep Jamboree. They were being such good doggies and it seemed like everyone attending just HAD to pet them! They both surely enjoyed all the attention—especially from the many children they met.
Bear and Pepper have been with AZPyrs for several months, and we can't understand why as they're extremely lovable! They are definitely a 'pair'—brother and sister—whom we would ideally like to re-home together.
We believe that Pepper is a 3-ish year old female Great Pyrenees/Border Collie mix. She is extremely fun loving and active, and she adores water, riding in a vehicle and fetching balls. Bear is the more serious sibling. Yes, Bear likes to play but he is also very people-oriented. He is happy just sitting with you and looking at you adoringly. We believe Bear is a Great Pyrenees/Saint Bernard. Bear hates, and I mean hates, water by the way.
Both of these cuties are up to date on shots, surgically altered and microchipped, and they're being fostered in Gilbert. Please contact Linda at AZPYRS@cox.com if you are interested in meeting these two lovable pups.