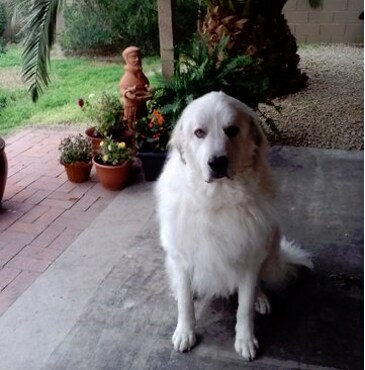 It's time to fall in love with Autumn - both the season and the dog! Our Autumn is a 2-year-old female Great Pyrenees, who would love to help you enjoy the change in seasons.
Morning walks, racing around the yard and having her tummy rubbed are high on her list. Autumn also enjoys car rides, swimming and playing 'keep away' (usually with your shoes and socks!). Like so many of our beautiful Great Pyrenees dogs, Autumn is a wonderful pup who just needs to settle down with a forever family here in the Valley!
Autumn was found south of Tucson, and while she gets along splendidly with male dogs, she has been found to not like the company of female pups and cats. We think she would do best in a household with older children, as she has a lot of energy and liveliness.
Autumn is spayed, micro-chipped and current on vaccinations. She is being fostered in Gilbert, so please call her foster mom Linda at 480-988-4033, if you are interested in taking home this spunky and lovable dog.
Also, be sure to head over to AZPyrs' website here to view our other dog adoptions in Phoenix to see if you or a friend could find a furry companion that needs a family.