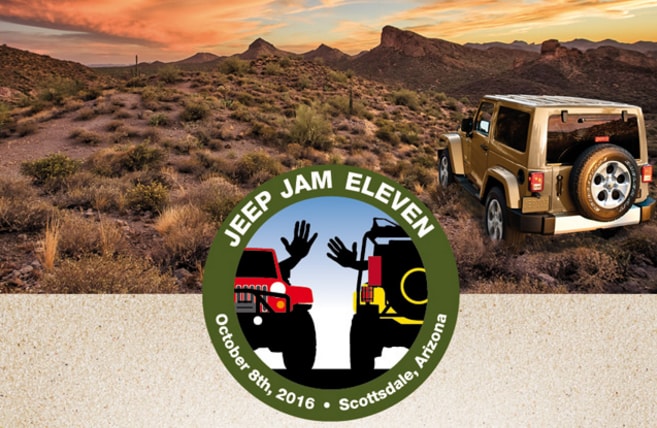 As we told you last month, we're excited to announce the return of Airpark's annual Jeep Jamboree!
Returning on Saturday, Oct. 8, 2016, at our Jeep dealership in Scottsdale, this year's Jeep Jam should be a fantastic time for anyone who owns and loves all things Jeep.
"It's been an exciting few weeks as we begin to prepare for this year's Jeep Jam. From our annual Trail Run to our new Battle of the Bands contest, we know that this year's Jeep Jam will be one for the books," said Airpark General Manager Coye Pointer.
The new Battle of the Bands should definitely be a big hit this year, with four musical acts performing at Jeep Jam, giving attendees some terrific local rock-and-roll to enjoy while they celebrate everything Jeep. Guests will also be able to enjoy terrific food, face painting for the kids, and items from various off-roading and Jeep vendors.
You can sign up for Jeep Jam here. If you have any more questions about this year's event, please don't hesitate to contact us or stop by our local Airpark dealership in the Phoenix area.
We look forward to seeing you at Jeep Jam 2016!