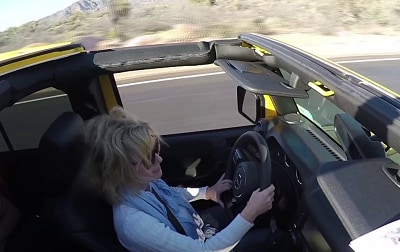 Local Arizona online magazine, SmartFem, recently released an exclusive review of the 2016 Jeep Wrangler Unlimited. Reviewed by SmartFem CEO Lea Woodford, the Wrangler Unlimited received nothing but praise, thanks to its powerful engine and excellent off-road suspension.
"Jeep will take you places other less capable vehicles can't," says Ms. Woodford in her review of the Wrangler Unlimited. In her review, which was accompanied by a video, Ms. Woodford took a new 2016 model out onto Arizona's roads and into some of its well-known terrains. She found that the Wrangler continues to combine "capability and passion to ensure that every adventure is extraordinary."
One of the highlights of the video review was her interviews with several Jeep owners, who had nothing but great things to say about the brand and what it means to them. Praising Jeep's ability to let people go where they might not normally be able to, these folks are certainly Jeep lovers for life.
Take a look at SmartFem's full video review of the 2016 Jeep Wrangler Unlimited below. If you would like more information about the Wrangler or if you'd like to take it for a test drive in Phoenix, visit us at Airpark today!