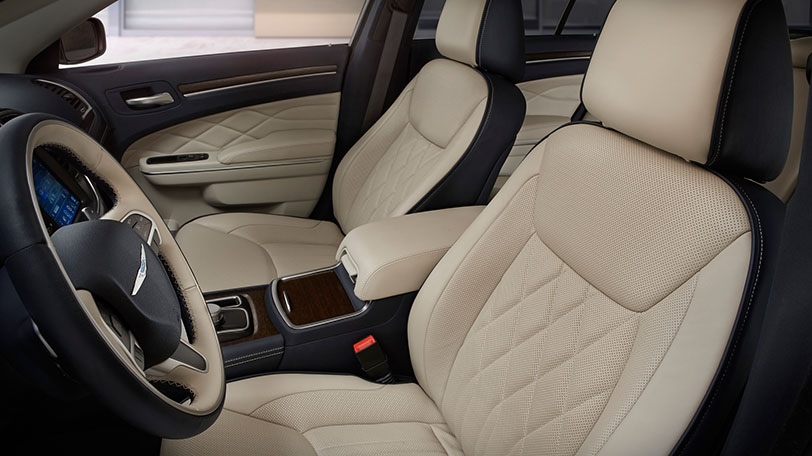 The 2015 Chrysler 300 was just awarded an impressive honor; it was named one of Wards "10 Best Interiors for 2015." The automotive experts at Wards spent months evaluating a host of 2015 vehicles, looking at their overall comfort, ergonomics, material selection, in-car tech, safety and design.
"In a world overpopulated with giant SUVs, the Chrysler 300C Platinum reminds us how glorious big sedans can be. The '15 model takes the superb interior of the previous version up another notch with even more features, comfort and sumptuous materials," said Drew Winter, Editor-in-Chief, WardsAuto World magazine.
Interior Design
The new 2015 Chrysler 300 offers passengers a sophisticated and comfortable interior design that seamlessly blends luxury and utility. The sedan is outfitted with the best in high-quality materials, as well as superb in-car technology, including an 8.4-inch central touchscreen, voice command capability, a six-speaker sound system and Bluetooth connectivity. Ideal for those looking for their next family car in Phoenix, the 300's interior is also quite spacious.
"The FCA US interior design team pays meticulous attention to detail, whether it's selecting the perfect materials and color combinations to ensuring the communication experience is intuitive and simple to use," said Klaus Busse, Vice President of Interior Design, FCA - North America. "To have the Chrysler 300 named to Ward's 10 Best List signifies that we have achieved our mission to offer products that go above and beyond to meet the needs of our customers."
The New Pinnacle
Considered to be the "new pinnacle of the Chrysler brand," the 2015 Chrysler 300 is at its best on its Platinum model. Wards found the 300C Platinum to be the finest example of interior luxury and style. This is thanks to the sedan's exclusive quilted Nappa leather that surrounds both the front and rear seats, as well as the car's door panels and steering wheel.
Wards also found the car's interior safety to also be a huge bonus, thanks to its standard front-side airbags, side-curtain airbags and even a driver-knee airbag. The sedan also comes with active front-head restraints that have earned it a top rating of "Good" from the Insurance Institute for Highway Safety.
The new 2015 Chrysler 300C is now at Airpark. Stop by today to experience the elegance and ease of this terrific luxury car in Scottsdale.