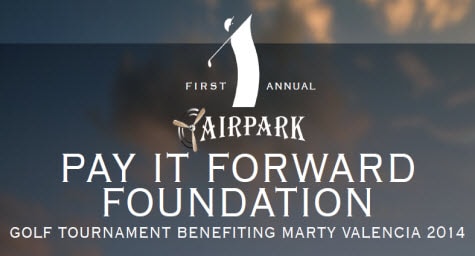 Airpark would like to sincerely thank everyone who attended and participated in the Pay It Forward Foundation Golf Tournament on June 8 & 9 at Arizona Biltmore Resort, benefiting former Airpark employee Marty Valencia, who was diagnosed with cancer in 2013. We had a great turnout during the weekend-long events and were able to raise $29K to help Marty's family pay for his medical expenses.
We were honored to have Marty at last month's golf tournament, but unfortunately a few short weeks later, he lost his battle with cancer. We are saddened to lose such a great team member and loyal friend, and our thoughts are with his family during this time - we know Marty's legacy will continue to live on. In honor of Marty, Airpark has decided to continue the Pay It Forward Foundation in order to help other employees who may find themselves in similar unforeseen circumstances.
Born and raised in Albuquerque, New Mexico, Marty was an avid golfer who began playing professionally in 1984. For years, he was surrounded by the sport of golf and even became the Director of Golf at Quailwood Greens Golf Course in Northern Arizona, but eventually, he moved to Phoenix - soon becoming a valued member of the Airpark team.
We appreciate everything Marty has done for us over the years and we are going to miss him dearly. We wish the best for his family, and hope that through the Pay It Forward Foundation, we can help others in the future.