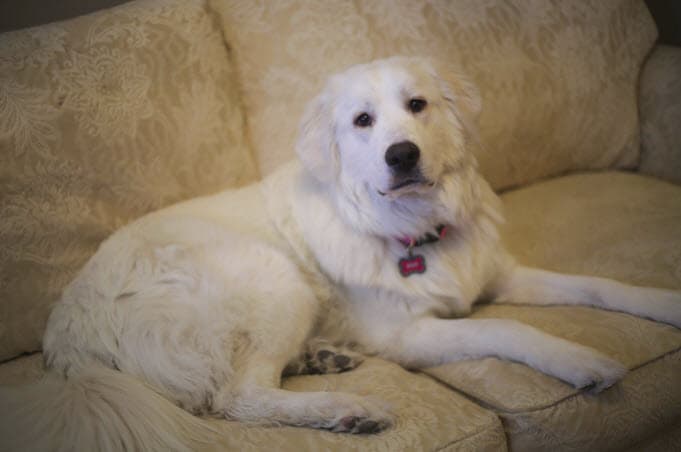 Although her name is Boo, no one could be fearful of this delightful 11-month-old spayed female Great Pyrenees. Relinquished by her owners, due to the aggressiveness of other household dogs, Boo entered the AZPYRS Rescue with a sunny and forgiving disposition and a true love for other dogs and children. Even at the age that most Great Pyrenees are truly a handful, Boo has shown remarkable manners and a quiet and loving soul.
Miss Boo loves to go on walks, rides beautifully in a vehicle, is totally housebroken and is non-food aggressive. Although she does play slightly rough (she's a big girl!), she has shown gentleness with smaller dogs and cats. Boo is crazy about children and is proving herself to be an excellent nanny.
Boo does not challenge fences, but a 6-foot tall fence is recommended. She would be a "pyr-fect" dog either alone or with a fuzzy companion. Boo is up-to-date on all vaccinations, vet checked and microchipped.
Boo is quite the lady right now and we suspect that, with time, she will grow into a truly magnificent and loving family member. Contact the Arizona Great Pyrenees Rescue Association if you are interested in little Miss Boo, and remember, we have many other adoptable dogs in need of forever homes too!