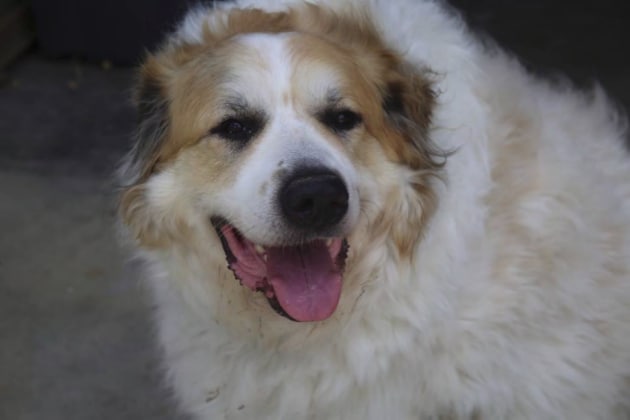 We love Great Pyrenees dogs of all sizes, including this special guy – Mr. McChunk! With a prolific coat of white, tan and brown hair, and a chest circumference of 47 inches, he's certainly a larger than life treasure.
Weighing in at 175 pounds, he's on the plump side, but our doctor says that he's in good physical condition overall. We're also currently working on getting his weight down, so soon he may be flaunting an athletic new figure.
Mr. McChunk is approximately 3-4 years old and neutered. Despite his weight, he enjoys going for short walks and can hop in your vehicle all on his own (a real back saver!) to go on rides in the car, which he loves to do. He's also a very devoted dog who will constantly be at your side, especially in the kitchen!
Mr. McChunk is incredibly alert and aware of his surroundings, so he'll warn you when something is amiss. He is definitely an indoor dog with excellent house manners, and while he gets along well with other dogs, he would prefer to be the only twinkle in your eye.
If you'd like to meet Mr. McChunk for yourself, please contact Linda at AZPYRS@cox.net or on Facebook.